Try to imagine that you're maneuvering down the highway. You've been at it for a couple of hours while being monitored for safe driving technique. Then, suddenly, you're told to drive off the road at sixty miles per hour. Why?

You're in a virtual environment.

Welcome to the world of Bruce Campbell MS'90. Campbell cites this real-life scenario, used by Mercedes-Benz to promote safety among its truck drivers, as an example of one of the many uses for virtual reality (VR).

The truck drivers just can't veer off the security of the pavement, says Campbell, even though they know they are merely experiencing a computer simulation. They say, 'No — somewhere in my heart, I feel like I'm going to die if I go off the road.'

"Its pretty bizarre stuff," says Campbell, who in the same breath admits that he is virtually evangelical about promoting the possibilities of emerging computer technology. When he gets talking about cyberspace, his enthusiasm transforms this soft-spoken 35-year-old former accountant into an inspiring teacher who makes you want to drop what you are doing and log on somewhere.

"I love cyberspace," he gushes, his voice rising and his hands gesturing. He believes that experiencing VR, in particular, "can change your soul and make you feel like, 'Wow, I've had this amazing experience that shows me the future.'"

But Campbell, an active member of WAA and its alumni networks, isn't just another computer geek who loves to speak Java. When it comes to cyberspace and the always changing emerging technology world, he is a populist, whose mission is to spread the benefits of computer life as we know it to everyone.

From the time he was in high school, computers captivated Campbell. He had your basic, middle-class upbringing in Norwalk, Connecticut. But, the classroom provided a haven from the difficult aspects of a public school district whose rundown areas were hotbeds for violence and racial problems. Campbell immersed himself in math, science, foreign language — and computer science. Though computer science met the same time as his favorite subject, French, he kept with it by getting a key and staying after school to do computer programming.

Wondering how he could make computers part of his career, Campbell went to study accounting at the University of Delaware. After working in the field for a while, he began to lose interest and headed to UW-Madison to study information science. It was as if someone had given him the key to Willy Wonka's chocolate factory.

He loved the city, the people, the campus and all it had to offer. He took as many computer classes as he could while earning a master's degree in one year, graduating with a 4.0 GPA. Even in laid-back Madison, people said he was off his rocker for taking six courses a semester (the norm is four). And he was so taken with the Latin community there, he made sure he was fluent in Spanish by the time he graduated.

Then it was back to Connecticut, where Campbell helped found that state's only UW alumni club. As its president for three years, he helped to raise money for scholarships for Wisconsin students. "Life was good," he says of his Madison days. He was touched by the Wisconsin Alumni Research Foundation fellowship he received here. "That meant the world to me. To know that they believed in me was a real inspiration, and I want to give something back to the institution that was so good to me," he says. "I want other students to get the same break I did."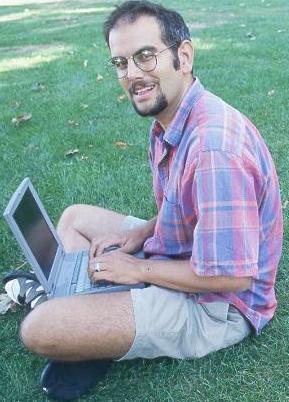 Campbell moved to Seattle in 1995 to work for IBM's training center. He was so interested in the emphasis of the Human Interface Technology Lab, part of the Washington Technology Center at the University of Washington in Seattle, that he started volunteering there. He was eventually hired as a research scientist. He teaches at several institutions in the Seattle area and has collaborated on a dozen computer books. He's written works that teach dynamic HTML in a week or VRML (a virtual reality language program) in three weeks.

Campbell also finds time to serve as secretary of the Rain City Badgers, one of Wisconsin's most active alumni clubs, serving more that six thousand Badger alumni living in the Puget Sound area. Thanks in part to his efforts, the club was named the 1997 Alumni Club of the Year by the WAA.

"I had seen the alumni association's Web page and I wanted to tell them it could be better," he says. "I wanted to make it easier for other alums to use the Web site better and to promote the alumni association." WAA was so impressed it asked him to give a talk about the future of cyberspace.

Campbell enthralled his Madison audience with his talk on emerging technologies, especially virtual 3-D chat spaces with this scenario: If Badger fans in Baltimore and San Francisco log on to a 3-D virtual chat space to watch a Wisconsin football game, they could see the stadium, the crowd, the score, the players, and just about everything else that makes attending an event special. "It far exceeds just getting a play-by-play account of the game," he says, "or having an online conversation. You get the sense — through virtual reality — that you are there."

At the Human Interface Technology Lab, Campbell helps develop VR applications for businesses, schools, and other uses. It's no accident, he says, that the words human and interface come before technology in the lab's name. It reflects their order of importance. In Campbell's mind, the most significant way that this new medium provides a better quality of life is by giving people the freedom to go one on one.

A virtual chat space, he says, allows users not only to have an online conversation, but to get a physical sense of who's there. "What I love about VR is that you and I can get together, and we're going to be able to do anything we want from a remote distance," he says. "It's the people aspect."

Among Campbell's projects are a virtual playground called Netgate Mall, a site for teachers who are curious about the building of virtual worlds (http://www.hitl.washington.edu/projects/learning_center/pf/) and a Virtual Puget Sound, which "brings together people on issues of ecology, education, and outreach." That will incorporate 3-D visualizations, graphics, and other multimedia, network, and browser capabilities.

There are really three approaches to VR, Campbell says. The simplest and most inexpensive is desktop. With desktop, he explains, "the world doesn't look any different than a 2-D world, but you have a 3-D location within that world, so as you move your pointing device, the world changes in response to where you are moving."

The immersive experience, which requires the user to wear a special helmet and glasses, is much more dramatic than desktop, because "you don't have access to any external senses. When you turn your head or walk forward, that's how you change your perspective." Campbell's lab works with the immersive technology.

The third approach, know as "the cave," is a "projection system in which a group of people are in a room, and the virtual room is being projected around them," he says. "You can walk around the images, and as you walk, the projection of the image changes its direction and perspective so you can actually see the situations from different angles. But you don't feel so cut off from other people, because you're not in your own helmet — you're in a shared experience with a group of people."

A group of surgeons about to perform a complicated brain operation, Campbell says, might want to plan their strategy with a trial run in a cave simulation first.

And that's another thing he loves about this new technology. "It changes humanity each time we experience things through VR that human beings are not easily capable of experiencing in the real world," he says. For example, computer scientists could build a virtual environment that allows users to visit the earth today and then travel back in time and visit it one hundred million years ago. Or, "you could say, I wish I'd been there when the Big Bang happened. You can just watch it happen. You can experience it," he says.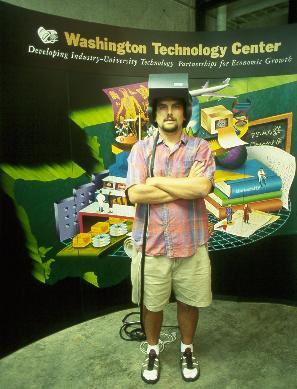 Does Campbell see any drawbacks to VR? For instance, will it stunt the imagination of children who are attracted by its very realistic aspects? Campbell says he himself was drawn to VR because he had a vivid imagination as a child and was particularly good at picturing himself in situations he read about in books. He sees VR as a tool that can inspire just as books do. "If you're an imaginative person, there's always more to imagine," he says.

Campbell also admits that such a seductive technology could hold potential harm for obsessive personalities. He quotes Carl Sagan's belief that "in every intelligent civilization, technology comes at a point before the civilization's ability to handle it, and it's a very tenuous time." But he believes that he can promote the good aspects of VR and work hard to make it a positive force. "It comes down to human beings being able to be in control of themselves and understanding balance," he says.

"I believe we are at a very significant place in human culture evolution," Campbell adds. He expects that the continued development of the World Wide Web and the computer will change the way leaders lead and educators educate.

"We have to consider all the ways things evolve, not just the evolutionary path of us humans. To anyone who is feeling depressed or alone, I recommend reading about the new theories that cut across the sciences and waking to the excitement of these new ideas," he says. "Why not consider yourself part of a much bigger picture and forget about your troubles more often?"

"Emerging technology is for everyone. It will open doors for us in so many ways. It's so exciting, isn't it?"

(c) 2012. Privacy Policy | Terms of Use

Designed by Free Website Templates for Free Flash Templates